Biography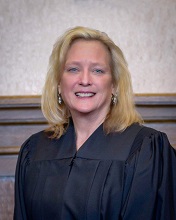 On November 4, 2008 Karen Lawson won the election for Judge of the Lake County Court of Common Pleas, Juvenile Division.  Judge Lawson made history as the first female to serve Lake County as Juvenile Court Judge.  In November 2014 Judge Lawson was elected to serve a second term.
Since taking the bench on January 4, 2009, Judge Lawson improved the efficiency of the Court's operation by streamlining the docket.  Additionally, she created the Juvenile Traffic Violations Bureau, making it possible to reduce traffic court to just three days per week. 
Judge Lawson successfully implemented programs designed to improve children's lives.  She introduced the Intensive Community Rehabilitation (ICR) program into the detention facility.  In partnership with the Lake County ADAMHS Board and Crossroads, the ICR program draws on the talents of current Court staff to decrease the children's risk of re-offending.  This unique program keeps high-risk, felony offenders off the streets while progress is made toward their rehabilitation. 
Additionally, Judge Lawson established the Restitution Work Detail program to ensure victims receive timely reimbursement for their losses.  Judge Lawson's New Voices for Girls program assists young girls in building self-esteem.  The Court's innovative Achievement Program helps young drug offenders turn their lives around, while the A-Ten-D program keeps at-risk children in school.  Through the detention facility's Gardening Project, Judge Lawson teaches children to grow their own fruits and vegetables.  With these and other programs, Judge Lawson prepares children for a productive future.  At the same time, she protects the public from children's delinquent behavior. 
Judge Lawson hosts prominent speakers to motivate children.  These have included Lev Polyakin of the Cleveland Orchestra, and Lebron James' manager and cofounder of LRMR Marketing, Randy Mims.  In the summer of 2013 she partnered with Greg Vovos and James Mango from The Fine Arts Association to bring a professional theater production to the Lake County Detention Center. 
Judge Lawson accomplished these objectives within the confines of a shrinking budget.  This is keeping in line with Judge Lawson's philosophy of getting the most out of every taxpayer dollar, and learning how to do more with less. 
In addition to her work with children, Judge Lawson assists the local professional community.  Through a partnership with the Supreme Court of Ohio and Lake Erie College, Judge Lawson brings cutting-edge seminars to Lake County.  Judge Lawson also hosts at the Juvenile Court the Supreme Court of Ohio's video conference training program.  This provides a low-cost, convenient opportunity for area Judges and Magistrates to earn mandatory continuing legal education training hours.  Moreover, Judge Lawson supports the Supreme Court of Ohio's Court Management Program.  This program ensures court leaders are trained in efficient and professional court administration.  Two of her administrators have already graduated from this program while others are currently enrolled.
Prior to taking the bench in January 2009, Judge Lawson practiced law for twenty-six years.  During this time, she had the privilege of serving the public in a variety of capacities.  Judge Lawson served as Magistrate for Lake County Juvenile Court and Acting Judge for Painesville Municipal Court.  Judge Lawson's private practice was devoted primarily to family and juvenile law. She served as Guardian Ad Litem for hundreds of Lake County's abused and neglected children.
In May of 1995, Judge Lawson was selected by Ohio Attorney General Betty D. Montgomery to serve as Managing Attorney of the Cleveland office. In this position, she led Montgomery's transition team in Northeast Ohio, coordinating sixteen counties. Judge Lawson became Deputy Attorney General, directing a staff of over eighty employees in fourteen legal divisions of the Attorney General's Office.  These divisions included: Capital Crimes, Correction Litigation, Consumer Law, Telemarketing Fraud, Medicaid Fraud, Environmental Law, and Workers' Compensation.
Judge Lawson served as Assistant Prosecutor during former Congressman Steve LaTourette's tenure as Lake County Prosecutor.  Judge Lawson was responsible for the prosecution and conviction of Kirtland cult matriarch, Alice Lundgren, wife of Jeffrey Lundgren. Alice Lundgren is currently serving a sentence of 150 years to life in prison.  Judge Lawson also was entrusted with the onerous task of prosecuting rape, sexual assault, and child abuse cases. In this capacity, she successfully prosecuted and obtained countless convictions on behalf of the State of Ohio. 
Judge Lawson was admitted to the Ohio Bar in 1982, and began her legal career serving as an assistant Lake County Public Defender.  Judge Lawson earned her Juris Doctorate from Cleveland Marshall College of Law.  She earned her B.A. in Political Science from Cedar Crest College in Allentown, Pennsylvania.  Judge Lawson was admitted to practice in the Federal Court for the Northern District of Ohio in 1983 and in the United States Supreme Court in 1999.
Judge Lawson has been honored to serve Lake County's children and families as Juvenile Court Judge the past five years.  She looks forward to a second term.  Judge Lawson is confident she will continue to build upon the progress that has already been made.
Quick Links
Testimonial
" We are only one case but I am certain you touch many lives and make an impact. Thank you for being a thoughtful and caring judge."